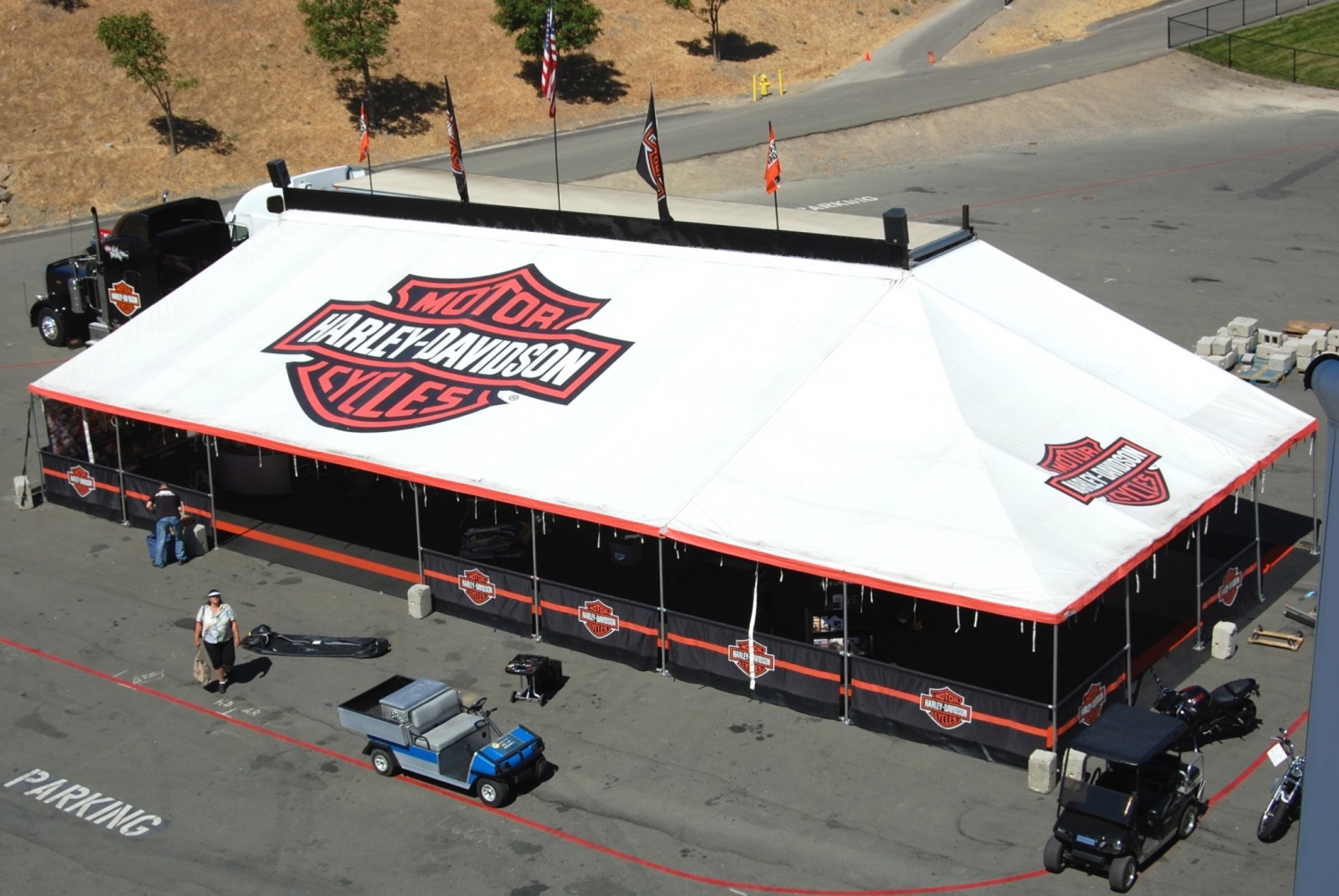 One man's story… "Thanks to you and your team for a nice addition to our rolling display. Your canopy does a great job of protecting our products and customers from the elements. The canopy helps us create a better customer experience by being able to creatively display our products. It is very well made, and the design is very easy to set up and take down. We are enjoying it immensely." Phil Harris, Harris Leather & Silverworks – State Road, North Carolina
These are comments from a man who has been out on the road with his Larsen canopy since 2010.
Now that's delivering satisfaction.
Larsens canopies are seen across North America at every event imaginable.
Race canopies for cars, bikes, planes & boats
Hospitality awnings for sporting and corporate events
Mobile media stage canopies for TV & radio
Mobile kitchen canopies for disaster relief
Vending Kiosks and Product Demo canopies
Entertainment Pavilions for everyone from Cirque du Soleil or ZZ Top
Race awnings for cars, bikes, planes & boats
Not only does Larsens make canopies for every event, but we also build mobile canopies for a wide variety of rigs.
Quality, Durability, Customization
We take pride in our knowledge of fabrics and mastery of craftsmanship. Here are just a few of the features which help make our products the best on the market:
Custom designed products to fit your trailer and your needs. Larsens designs and builds to accommodate any trailer, regardless of size, shape or trailer side impediments such as slide-outs and tall doors.
Stable fabrics which reduce stretching and shrinking. The canopies are built to fit better and stay that way longer.
Sewing with continuous filament bonded polyester thread which is resistant to mildew & UV rays.
Interior reinforcement of valances with an underlay which reduces wear and tear.
Reinforced rafter pockets which help to prevent leaking and chafing of the roof by the rafter.
Zippered vertical boltrope on roof ends. A standard feature that is a great plus during setup and tear down.
Shipping / storage bags outfitted with a convenient repair kit. This kit includes spare zipper pulls, zipper stops, side release buckles, webbing, repair tape and repair dots.
R & D: We are constantly researching the latest fabrics and materials related to all of our products. We are also determined to stay at the forefront in fabrication techniques and printing technology.
From Concept to Completion
At Larsens we specialize in custom products. The only "standards" around here are our high standards for quality and responsiveness. Each order is made to our customer's individual specifications. No matter what you envision, we can help you turn it into a reality!
When a concept or idea is presented to us, we assist in fleshing out the details until it becomes a plan. Throughout the process Larsens can provide valuable input regarding any of the fabric structure issues. Once a build plan is in place, you can trust us to keep an eye on the details and the deadline.
Make your presence stand out with our state of the art graphics capabilities. We can provide custom templates to your creative department – or send us your artwork for us to place. We provide a pdf of your layout for approval before production. A print sample may be requested for a small fee.
Whether you're a seasoned tour veteran or first time weekend warrior, we're here to help.
How To Start Your Project
Trailer canopies are either "Fully Enclosed" with vertical supports poles around the perimeter and project out up to 30′ (or more) ~ or ~ "Cantilevered" with no vertical support poles. The cantilevered style is typically limited to a 15′ projection.
Determine which style suits your needs. If you are unsure, we can discuss that with you.
You will receive a quote from Larsens, or we will contact you if more information is needed.
To place an order, return the signed quote with a purchase order number (if used) and desired delivery date.
A deposit of 50% is required for all orders.